EcoCityCraft Economy | Minecraft Servers
Black Friday MEGA Sale is here!

Everything in the store is now 30% off until tomorrow at 11pm EST!
Once again we are looking for members of the community who are active and friendly and would like to do more then they can already to help the community.

You can apply to join the staff team here:
http://www.ecocitycraft.com/forum/forums/staff-wiki-team-applications.26/

Make sure you read through our new rules for applying and remember long terms and active builders and residents can also apply. You can find the format and staff requirements in this thread:
http://www.ecocitycraft.com/forum/threads/8370/

Do not forget you can include a poll in your application but make sure it follows all of our guidelines for including a poll in staff applications.

Good luck to all applicants.
Introducing our newest addition to the pet feature...HORSES!!!

Now available in our buycraft store!

These horses can be widely customized with choices of armor and saddles. All horse variations available. You can even choose to have a zombie horse,skellie horse, and mule!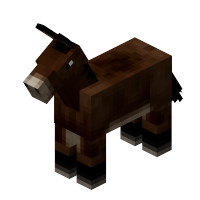 Introducing our newest feature....backpacks!

This feature allows you to have more space to carry items AND items stored in your backpacks do not drop when you die! They stay with you.
Each purchase of the backpack feature give you a full line (9 slots) to hold more items. You can purchase up to 6! That's like carrying around a double chest on you! O_O

Note: Once you purchase this you will need to relog for your backpack to update. This should be fixed soon.
Particle trails!

A new feature added to our buycraft shop which can now be purchased are these cool particle trails which can be used in all worlds excluding sg. Not sure why you would want to use them in there (look at me Im a target!) Anyway, these can be used individually or you can stack multiple ones to make a unique trail!

We have basic trails and premium trails available right now. More options will be added throughout the next few days so keep a look out!

So far we have added:

Basic
Cloud
Criticals
Driplava
Dripwater
Enchantment

Premium
AngryVillager
Early Christmas Sale!

Everything in store is 15% off. Also, We are giving the promotion medal away for much cheaper than ever before. All donations over $75 qualify. This ends December 1st.
*For this sale we are only Accepting PayPal and google wallet until December 1st. Note that Google wallet will no longer be available to use come March 2015.*

More information here: http://www.androidauthority.com/google-wallet-api-digital-products-567180/

Next sale will be around Christmas time.

Also stay tuned to our Buycraft store for new features coming up!
We have raised the mcmmo cap level to 2000!

To open up this new addition we are now holding a competition to see who can reach this level in each skill! The first person to reach 2000 in a skill will need to post on the thread linked below with screenshot proof and will be rewarded with a $100 coupon! Only rule is that you must be the first to post in this thread for that specific skill once you have reached 2000.

Happy grinding!!!

http://www.ecocitycraft.com/forum/threads/level-2000-mcmmo.112573/
Tonight we held ECC's first ever Boss Fight! Many users entered to battle, but only one prevailed!
​
In the end it came down to our Boss Jakeyray18 and Donkey5k. After a long and exausting fight breaking three pieces of Jakey's armor Donkey finally won ECC's first SG Boss fight!

Congratulations,Donkey5k,on your amazing victory!
Mining and Nether Worlds have been reset!

Happy gathering everyone!