EcoCityCraft Economy | Minecraft Servers
We have now opened our 15% OFF Christmas sale via http://shop.ecocitycraft.com
Our Christmas Sale will run during the following days this month:

December 16th -> December 26th 11:59PM EST

Everything store wide is 15% OFF.
All purchases $100 and over will receive the forum promotion medal as well as *free* forum gold/lite upgrade. Please PM me with the upgrade of your choosing and I will have it applied to your account.

We have also added Christmas Coupon Codes for this Christmas Sale. They are exclusive for Christmas only and will likely not be available afterwards. Upon purchase the coupon code will be pmed to the username on the receipt. You may then use it for yourself or give it to a friend this Holiday season. Keep in mind they expire after 90 days. Minimum coupon purchase is $20.

Happy Holidays everyone!
Introducing ECC's newest sg map to replace sg1!
Its finally here! A smaller map beautifully designed with an island theme that's challenging and full of adventure. Perfect place to use those boats we've just added to the chests!
Also, just a reminder about our new earning amount for kills/wins.
End of match main bonus 150 -> 300
End of match kill bonus 100 -> 200
Instant reward for killing a player in a match 100 -> 200

As always...may the odds be ever in your favor!
​
To celebrate all the festivities of December we have decided to boost up the earning in sg! Doubled it all!

End of match main bonus 150 -> 300
End of match kill bonus 100 -> 200
Instant reward for killing a player in a match 100 -> 200
Keep in mind no-kit-SG matches will double the already doubled earning! Woah!

May the odds be ever in your favor!​
The new 1.8 blocks are now available to grab up at the spawn shops in rising and legacy!
- Diorite/Polished Diorite
- Andesite/Polished Andesite
- Granite/Polished Granite
- Slime blocks
- All red sandstone block forms
- Prismarine/brick/dark

Excited to see what you all come up with in your builds with these new looks!

Happy building guys!
Woot, throw those 1.7 clients out the window we are heading to 1.8. Almost everything will be available to you guys from this update. All the new blocks and items will be obtainable as well as new mobs will spawn!

A few changes that everyone may be interested in knowing include:
- Enchanting tables have been disabled again and the new enchantment sign will be added to the EXP shop.
- Guardians/Elder guardians and Endermites will all be spawning in the mining world.
- Bunnies will be available in all worlds that have passive mobs spawning already.
- About 90% of the new items and blocks available in 1.8 will be sellable to the server, however a select few will remain out of our sell command.
- We have had to change the /sell values of a few blocks due to this update, nothing that will majorly impact the server - most to adjust for new mechanics.
- Axes will not work on melons, instead melon swords will remain the best tool to use while melon...
Black Friday MEGA Sale is here!

Everything in the store is now 30% off until tomorrow at 11pm EST!
Once again we are looking for members of the community who are active and friendly and would like to do more then they can already to help the community.

You can apply to join the staff team here:
http://www.ecocitycraft.com/forum/forums/staff-wiki-team-applications.26/

Make sure you read through our new rules for applying and remember long terms and active builders and residents can also apply. You can find the format and staff requirements in this thread:
http://www.ecocitycraft.com/forum/threads/8370/

Do not forget you can include a poll in your application but make sure it follows all of our guidelines for including a poll in staff applications.

Good luck to all applicants.
Introducing our newest addition to the pet feature...HORSES!!!

Now available in our buycraft store!

These horses can be widely customized with choices of armor and saddles. All horse variations available. You can even choose to have a zombie horse,skellie horse, and mule!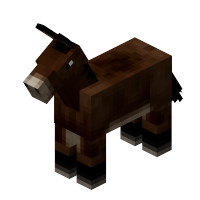 Introducing our newest feature....backpacks!

This feature allows you to have more space to carry items AND items stored in your backpacks do not drop when you die! They stay with you.
Each purchase of the backpack feature give you a full line (9 slots) to hold more items. You can purchase up to 6! That's like carrying around a double chest on you! O_O

Note: Once you purchase this you will need to relog for your backpack to update. This should be fixed soon.
Fixed!